Lead generation is crucial for B2B businesses. But without a solid understanding of how it works, you might be leaving money on the table.
This article can help.
Below, we'll explain what B2B lead generation is and what you need to know to start making the most of your lead generation strategy.
Let's take a look.
Table of Contents:
What is B2B Lead Generation?
Stages of Lead Generation
Lead Generation Terms to Know
Top Methods of Generating B2B Leads
Conclusion
What is B2B Lead Generation?
B2B lead generation is the process of identifying potential customers for your business and acquiring their contact information so you can reach them with marketing messages or invite them into a sales conversation.
There are many ways of going about lead generation, which we will look at in this article.
But first, let's break down the lead generation process into its different stages.
Stages of Lead Generation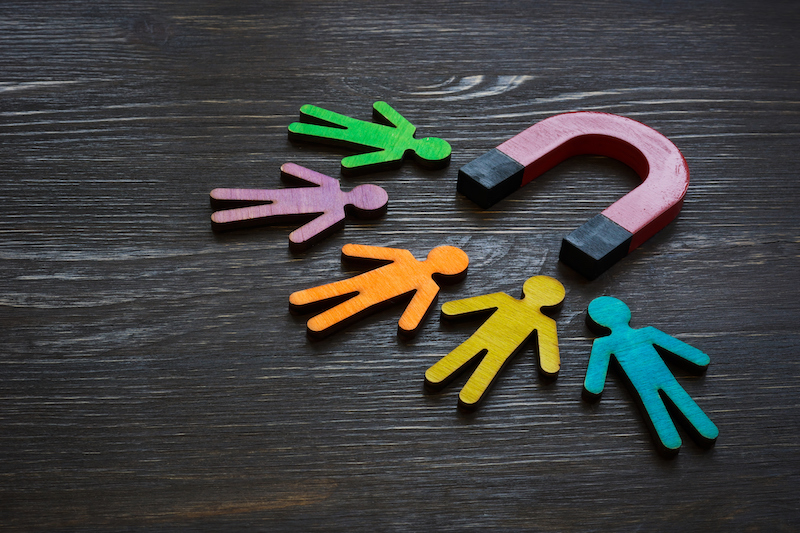 Identifying Target Customers
Before beginning the lead generation process, you'll need to have a clear idea of who you're targeting—in other words, your target customer.
Once you know what kind of person would be interested in your products or services, you can create marketing strategies designed to attract them and turn them into new leads. (See some ideas of how to do this below.)
The Life-Cycle of a Lead
Each lead that you interact with or who comes across your marketing materials will go through 5 different stages:
Awareness: The lead must first become aware of your business and what you offer. They might find out about you through a targeted ad, media coverage, or a cold-calling campaign, among other methods.
Consideration: This is the stage in which the lead considers your business and learns more about what you offer. They may frequent your website, read your content, or download free resources to learn more about you and your solution.
Intent: This is the stage in which a lead is interested in becoming a customer. You'll know this because they show their intent to buy in some way. This may look like: signing up for a demo, contacting your sales team, or saving a product in their cart.
Purchase: In this stage, the lead completes the purchase and becomes a customer.
Retention: In this stage, your business works to keep the customer satisfied so you can retain them long-term.
These 5 stages are also called the Buyer's Journey because they map out the process a person takes as they decide whether or not to buy from you.
When Does Someone Become a Lead?
A target customer becomes a lead when you acquire their contact information. This doesn't mean they're interested in buying—it simply means you have a way of contacting them and possibly converting the relationship into a sale.
In the case of outbound marketing, your sales team may acquire contact information through research without the lead's knowledge.
But in the case of inbound marketing, leads will identify themselves by giving you their email or phone number in exchange for a free resource, a free trial, or other valuable offer.
Lead Generation Terms to Know
Demand Generation: This is the stage that comes before lead generation. To get traffic and turn it into leads, you'll first need to have demand for your offers. You can do this through marketing campaigns designed to generate awareness.
Outbound Lead Generation: Lead gen strategies can be outbound or inbound. Outbound strategies involve your business directly reaching out to target customers by cold calling, cold emails, or targeted ads. These people aren't actively searching for your business, but there is a chance they'll be interested in learning more.
Inbound Lead Generation: Inbound lead generation happens when people actively search for something; then, through that search, they discover your business, offers, or content; and finally, they sign up for a resource you provide and give you their contact information.
Lead Nurturing: In lead generation, nurturing means using content and other marketing tactics to move a lead toward a buying decision. While some leads are ready to buy right away, others will need more nurturing before they're ready to make a purchase.
Sales Funnel: A sales funnel is a collection of content and digital marketing tools that automate the lead generation process for your business. A sales funnel might include SEO-friendly blog posts, targeted ads, landing pages, targeted email sequences, and more.
MQL stands for Marketing-Qualified Lead. This describes a lead who has shown interest in your marketing content and wants to know more. A marketing-qualified lead has digitally raised their hand to learn more about your business by downloading resources, visiting product pages, and doing tasks that reveal their interest. Labeling leads as MQLs helps you identify which leads to focus on with your marketing efforts.
SQL: This stands for Sales-Qualified Lead. This describes a lead who has shown strong interest in purchasing from you. These leads are ready to be passed to your sales team. This helps differentiate between leads who need more information through marketing efforts and those who are ready for a sales conversation.
Top Methods of Generating B2B Leads
There are a million and one ways to generate leads for your business, but here are some of the most effective for the B2B market:
SEO Content: Most people search online to find solutions to pressing problems. If you create blog and website content that shows up in search results, you can capture that traffic and turn it into new leads.
Social Media Content: B2B buyers are people too, which means they spend time on social media just like the rest of us. If you can catch a buyer's eye with informative and interesting content, you can turn that person into a lead, too.
Video Content: Besides searching Google for answers, many people look to videos to learn new things. If your business can create video content that answers B2B businesses' questions, you can generate new leads from that traffic.
Free Trials & Demos: For SaaS companies, offering a free trial or demo of your service is a great way to generate leads.
Whitepapers and Reports: B2B buyers like to read reports highlighting industry trends or explaining a new technology they're interested in. You can offer a whitepaper or report for free in exchange for contact info.
Targeted Digital Ads: Digital ads are considered outbound because you can reach people who might not be looking for your business or offers. But because ads are highly targeted to a specific type of person, these are often the best way to generate leads quickly.
Offline Methods: Digital marketing isn't the only way to generate leads. You can generate leads with print materials, traditional ads, media coverage, and more to generate interest and new leads.
(If you want to learn more about B2B marketing strategies, check out our primer on B2B marketing here. )
Conclusion
In this article, we broke down what B2B lead generation is, how it works, and what you need to know to start planning your B2B lead generation strategy.
Have more questions? Leave them in a comment below, and we can answer them in an upcoming piece of content.
About ReelAxis
ReelAxis is a global B2B marketing agency powered by tech industry insiders. We help you generate more leads through SEO, email, social media, digital ads, print and offline media, video, and more. Book a demo to learn how we can partner with you to make your B2B marketing strategy a success.