Whether you have HubSpot or another marketing automation tool, chances are high that your organization is underutilizing it. And if you don't have it yet, then you definitely doing your organization a disservice.
At Reel Axis, we find that a lot of our customers are paying for a comprehensive marketing automation tool like HubSpot, however, no one taught them how to use it properly. Email function is great, but that's basically like using a glorified database to send out the occasional newsletter.
The truth is, there is so much untapped power that technology companies like yours are missing out on.
Welcome to the HubSpot Growth Stack.
Paired with the right strategy and stack of tools, HubSpot can help you market, sell and communicate with your customers. Simply put: HubSpot gives you the capability to attract, convert and accelerate your pipeline.
Every year, HubSpot conducts research on capturing the return on investment its customers have experienced from marketing and selling with their software. The research covers the three areas that are available from marketing automation: attracting strangers to become website visitors, converting website visitors to leads, and closing leads into customers.
Here are the results:
Attracting Site Visitors: Customers reached 3.3 times more visitors per month within 1 year.
Converting Visitors to Leads: Customers reached 3.5 times more leads per month within 1 year.
Turning Leads into Customers: 79% of customers who responded to the survey saw an increase in sales revenue, 67% within 7 months of using HubSpot. 83% of the customers saw an increase in lead-to-customer conversion rate.
We don't need to try and guess, HubSpot gives us the exact data. The true power of marketing automation technology comes from the ability to fuse marketing and sales. An added bonus is the ability to integrate your service teams from directly within HubSpot. Done correctly, marketing automation creates systems that generate and nurture targeted leads. These programs then pass these qualified leads to sales.
But how does it work?
One simple example is lead scoring. When beginning a lead scoring program, marketing sits down with the sales team to establish some baselines — how long it typically takes to get an appointment with a cold lead, how many touchpoints it takes, what types of touchpoints they are using, etc. Marketing is then able to create nurture programs that pass leads to sales when they are qualified and meet the criteria established by sales.
This allows the sales team to focus on the most important leads, which are more likely to result in closed deals. This collaboration makes the teams more unified because there is buy-in from both parties and not only are sales getting qualified leads, they feel marketing is supporting their success.
So, what did the research reveal about the sales and marketing teams?
HAPPIER MARKETERS: 91% of growth stack users agreed HubSpot has helped them achieve their growth goals
HAPPIER SALES REPS: 70% of HubSpot customers have recognized better quality leads with HubSpot.
HAPPIER CUSTOMERS: 60% of customers have seen an increase in their customers' satisfaction.
Another benefit of graduating to the growth stack is cost savings. Making the move to the HubSpot growth stack enables many teams to eliminate other software costs, paid media management fees, and in some cases, reduce operational costs.
There are also numerous time and financial benefits of using HubSpot growth stack: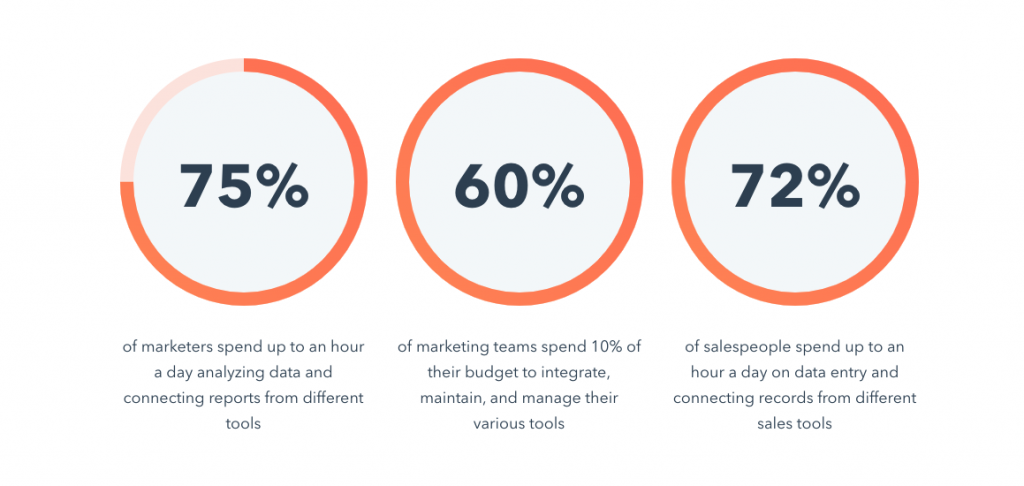 Ready to unify sales and marketing with marketing automation so that you can grow efficiently and without headaches? Let Reel Axis implement your programs, all using a centralized hub like HubSpot growth stack.
To get started, connect with us for a free assessment!