B2B content syndication has the power to convert your best content into qualified leads before prospects have even visited your website.
If you want to get your informative and engaging content in front of a larger audience than usual and gain more new leads, then you need to consider using content syndication.
In this guide, you'll discover what B2B content syndication is and why more companies are investing in it. Then we'll highlight the benefits of using content syndication services and how you can run a successful B2B content syndication program for your company. 
Let's get started.
What is B2B Content Syndication?
Content syndication is the process of distributing your digital content, such as an article, a whitepaper, a video, or an infographic, via third-party channels. The primary aim of B2B content syndication is to reach a targeted audience and generate new leads from prospective customers.

B2B marketers will typically set minimum lead target goals with content syndication vendors before launching a campaign. A Demand Gen Report found that 30% of B2B marketers consider content syndication their most successful lead generation channel.
In many ways, B2B content syndication combines content marketing and sales prospecting. Popular methods include telemarketing, cold emailing, cross-posting content on LinkedIn, and running PPC ads.
How Does B2B Content Syndication Work?
B2B marketers typically use a content syndication vendor to deploy their content. These providers have an established network of companies who they can approach to republish the content. Then, anyone who responds to that content is vetted as a qualified lead and handed back to the marketing team.
Here's an example of how it would work:
You'd approach a content syndication partner such as Reel Axis.
The Content Syndication Partner would quote you on a cost per lead that fits your criteria. For example, you can expect to pay around $35-$75 per lead, depending on the parameters of a 'qualified lead'.
You'd sign a contract with the syndication partner and give them your content.
The syndication partner will contact one or more relevant companies in their network.
These companies would publish the original content, for example, in their email newsletter or on their website.
Anyone who clicks on the content and completes a lead capture form would be a "lead" that gets passed onto the vendor, screened against preset criteria, and then delivered to you as a qualified lead, typically via a .csv file or as a direct integration into your marketing automation platform, such as HubSpot.

Why are More B2B Companies Investing in Content Syndication?
The main reason B2B companies invest in content syndication is to boost the ROI of their content by getting more leads into their pipeline, along with locking a set number of leads in at a set price, which is powerful for budgeting.
Typically, a marketing team would publish an article with an email lead capture form to qualify readers and nurture them in an email campaign.
However, this strategy relies on several factors to succeed:
You're hoping that your ideal customer will search for your article and give you their contact details.
You're also hoping that your article will rank in Position #1 on Google, so your prospects see it immediately when searching. (Even if you rank in Position #2, there's a 20% lower clickthrough rate (CTR) than the top result.)
So, to increase their chances of success, marketing teams turn to content syndication. i.e. they eliminate the variables, and go straight to the source where there is a guaranteed pool of prospects that meet their ICP.
As we mentioned earlier, content syndication is a combination of content marketing (creating valuable content for your ideal customer) and sales prospecting (using proactive tactics like telemarketing and cold emailing). Together, these tactics get more leads into your pipeline, faster.
What are the Benefits of Content Syndication Services?
Besides getting more eyeballs on your content, there are several tangible business benefits of content syndication services too.
Let's look at some of the primary benefits:
Reach your target audience
B2B content syndication removes the "hoping and waiting" of your typical content marketing strategy. By partnering with a relevant company, you can target warm leads in the market looking for your product or service.
The third-party company can reach out with a call or cold email to engage prospects and introduce them to the relevant content. They'll also ask qualifying questions during the outreach to help determine the lead quality and plan future contact.
By using content syndication and going narrow, you can reach your target audience or accounts directly.
Generate qualified leads
B2B content syndication transforms your content into a lead generation machine.
For example, you can leverage third-party platforms to reach relevant audiences with inbound content syndication methods, such as co-marketing and social media. And with more challenging outbound content syndication methods, such as telemarketing and cold emailing, the results are more powerful.
Outbound methods allow content syndication service providers to connect directly with warm leads, using your best content to drive the conversation. As a result, they can qualify and build a good relationship with leads from the start, so you only receive quality leads for your sales teams and nurture campaigns.
Run campaigns on a cost-per-lead basis
B2B content syndication enables you to run marketing campaigns on a cost-per-lead (CPL) performance basis, which is unique to other channels.
Maximize content ROI
B2B content syndication gets more eyeballs on your content. Creating comprehensive and authoritative content takes time and money, but now you can make it work harder for your business.
Increase brand awareness
B2B content syndication can increase brand awareness. For instance, having your article featured in a leading industry newsletter or published on an authoritative site will help you reach new audiences.
Even if these new audiences don't convert immediately, your brand name is now known to them.
So when you run your future marketing campaigns, you can offer valuable content that resonates more with qualified prospects directly and nurture them towards a sale.

How to Run a Successful B2B Content Syndication Program
Let's take a look at the steps required to run a successful content syndication program for your business.
Nail your ideal customer profile (ICP)
Whether you're running an inbound or outbound B2B content syndication campaign, you need to nail your ideal customer profile (ICP). Without it, you're flying blind and likely wasting a ton of money.
"Organizations with a strong Ideal Customer Profile (ICP) achieve 68% higher account win rates."
B2B companies use firmographics (organization data) to build their ICP, whereas B2C companies use demographics (individual customer data) to develop a buyer persona.
Firmographic data includes:
Location: Headquarters plus subsidiaries per country or region.
Contact details: Company name, website, email address, and phone number.
Industry: Type of products or services sold. Some companies occupy more than one industry vertical and multiple firmographic segments.
Ownership: Is the company a public organization, a private firm, an NGO, a charity, or a non-profit?
Revenue: Annual revenue is an excellent way to target companies based on their potential purchasing power.
Technology: Do your customers leverage certain technologies? If so, targeting other companies with these technologies could be a smart way to uncover new leads
Organizational size: The company's size, including its physical location, number of employees, and structure.
For inbound programs, you'll need to ensure the third-party sites you're publishing on match your target audience.
For outbound programs, you'll need to ensure the list of prospects match your ICP. The outreach team will waste their time if you get a mismatch, and potential leads will get annoyed.
Build a target accounts list
A successful B2B content syndication program should generate qualified leads matching your criteria.
However, building a target accounts list is challenging and is cited as a top 3 challenge for B2B marketers running ABM programs: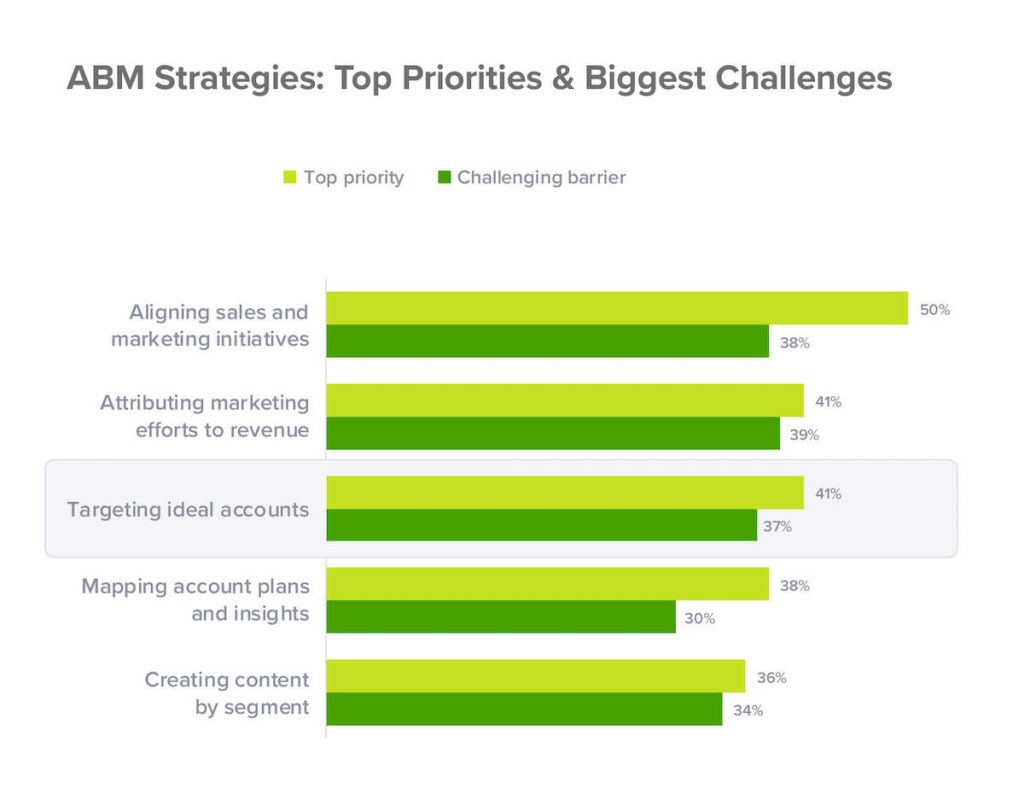 To overcome this hurdle, you can use firmographic and technographic data to develop your target account list.
For example, you can research data on the company website, in press releases or annual reports, and even LinkedIn to build your target accounts list:
Market: industry, company size, competitors.
Company: revenue, marketing share, history.
People: management, buying power, key roles, influencers.
Relationships: organizational structure, reporting, buying teams.
Intent: Leveraging intent data is another smart way to go about building our ABM list, essentially adding in companies that both meet your ICP and that are actively consuming content that insinuates they may be in their buyer journey for a product like yours.
The most effective way to generate high-quality leads is to focus on outbound methods, such as telemarketing and cold emailing, that let you control who you contact. Plus, you can pre-qualify prospects using firmographic and technographic data to build a list of target accounts.
Decide on lead gen assets
You need to decide which types of content, and topics, will resonate with your ICP and get them interested in your offering.
For example, research from Salesbox found that whitepapers and webinars are most popular among B2B companies for lead generation:
85% of marketers use whitepapers
60% of campaigns use webcasts
50% of campaigns include creating infographics
35% of campaigns include writing articles
But that's just the first step. Once you've chosen your format, you also need to know what content topics will resonate.
For example, if you sell a complex B2B SaaS product, such as an ERP system, that requires a significant investment and involves multiple decision-makers in the company, then maybe something like a whitepaper on developing a business case for an ERP solution would be a suitable topic and format.
Confirm your input fields
Once you've confirmed your ICP based on demographic, firmographic, and technographic data and selected specific accounts you want to target, you'll need to verify your input fields.
For example, you may want to target marketing executives (VP or higher) working in the finance sector for companies with annual revenue above $1 billion.
Then you can provide this information to the content syndication partner and translate it into the qualification questions and fields for content access.
Set up a nurture series
Before you even look at a content syndication channel or partner, you need to have an email sequence ready to nurture the leads you get from the campaign. Once you get your leads, you'll need to put them into your nurture series immediately while they're still warm.
B2B content syndication leads are typically at the start of their journey. They've likely encountered your research and advice for the first time and need to be nurtured with relevant content before your sales team gets involved.
For instance, consideration stage B2B lead nurturing content includes:
Comparison guides to help them evaluate various categories or providers side by side.
Whitepapers to offer in-depth, problem-solving guides.
Webinars to engage and educate them with solution-based information regarding their problem.
So, a consideration stage nurture series might look like this:
Send a welcome email encouraging recipients to connect on social channels.
Send a practical resource, such as a comparison guide, checklist, or infographic.
Send a helpful resource like a whitepaper that addresses an audience's pain point or fear.
Send an invite to a webinar.
Send a customer case study.
Leads will also react at different points in your nurture series, so you'll also need a marketing automation platform for effective lead nurturing and eventually lead scoring too.
As users engage with content – i.e. open an email, click on a link – a marketing automation platform can score the leads and move them into different nurture campaign sequences or alert sales reps.
Decide where to syndicate
Choosing the right content syndication platform can make or break your campaign.
For example:
Choose a site with a relevant audience that will generate qualified leads.
Select a partner whose audience reflects the qualities of your ICP.
Choose a vendor based on the content type and topic.
Syndicate to high authority sites. Exposure to their audiences enhances your brand's worth and visibility online.
Select a content syndication partner
It's essential to select a content syndication partner that works best for you. Compile a shortlist of three based on prices, industries, specialties, contract details, plus previous campaign results.
Here are some questions to ask your prospective content syndication partner:
What channels do they use? Most content syndication providers will use some form of PPC, email marketing, telemarketing, social media, etc. Each has their pros and cons, and ensuring you are not cannibalizing your efforts is a critical discussion point when selecting various partners and channels.
What is the make-up of their target audience? You want a match between your ICP and their target audience. For instance, if you're a B2B technology company, you'll need a partner who works with similar companies.
How will your content be displayed? Your brand elements must be visible alongside the syndicated content in a manner that makes sense. Many companies opt for 'dedicated emails', in which their brand is 100% of the focus.
Can they help with content creation? If you don't have the time and resources to create content in-house, this could be a valuable service. Some companies may even offer this as a value-add.
How will your leads be delivered? Can they integrate with your existing marketing automation software, or will they send leads via a CSV file?
What is their track record? Check the value of the leads from previous campaigns for other clients. Ask how they tracked the cost-per-lead they generated.
Also, talk to your peers and get their feedback and experience working with content syndication partners.
Review lead data closely
Once you start getting leads, you'll need to review the data closely.
Your content syndication partner should evaluate the leads that come through to ensure they are legitimate and fit your ICP before passing them across.
But the onus is on you, at least in the beginning, to check the leads and email metrics to ensure they are legitimate. If not, don't be scared to ask the syndication partner for a replacement.
You'll also need to be on the lookout for bot leads. If a follow-up nurture email bounces, ask to see the audit trail that shows how the person was qualified to your list of leads.
Top Challenges in B2B Content Syndication
The top challenges in B2B content syndication include a lack of resources, budget constraints, and measuring results.
Lack of resources
Running a successful content syndication campaign takes time, expertise, and money. From cold calling to content writing or hosting a webinar, it's unlikely that you'll have the available resources to execute everything to the highest level.
Poor targeting
There are countless syndication channels available to B2B companies, but it can be hard for companies, especially those just starting up, to hone in on the channels that have their ICP and target accounts.
If your targeting is poor, you might land a few valuable leads now and then, but it won't be enough to guarantee results or scale your campaigns.
Measuring results
Even the most experienced marketing teams struggle to measure the effectiveness of their campaigns.
But it's essential to have the right processes in place to accurately determine if you are getting enough quality leads in the pipeline that will eventually lead to a positive campaign ROI.
How to Measure the Success of B2B Content Syndication
While brand awareness and traffic are parts of the equation, they are vanity metrics in and of themselves. You should always judge success on lead quality and eventual revenue generated from the campaign.
Lead volume
In general, the more leads you generate, the better.
However, it's equally important to set up the appropriate measures to track conversions, primarily as you're not hosting the content on your website, and evaluate the content syndication.
Lead quality
Generating hundreds of new leads is pointless if they don't match your ICP.
If your B2B content syndication is a success, then you should expect an influx of qualified leads eager to learn more about your product or service.
Make sure you review the lead quality regularly and, if necessary, adjust your tactics accordingly.
Closed deals
If you're getting a high volume of quality leads, then the final measure of success to evaluate is the number of closed deals. After all, the revenue generated from the campaign is what counts.
Outsource Your B2B Content Syndication Program
B2B content syndication is a powerful strategy that lets you reach your target audience and generate more qualified leads from prospective customers.
Besides getting more eyeballs on your content, successful B2B content syndication enables you to run campaigns on a cost-per-lead basis, maximize your content ROI, and increase brand awareness.
However, many firms struggle with B2B content syndication due to limited resources, budget constraints, and poor targeting.
That's why you should consider outsourcing your program to a content syndication partner like Reel Axis.